Aluminum Gravity Die Casting Service
There is a high demand for aluminium gravity die casting parts because these products are durable and perfect for the industry's needs. The die casting process always yields the best products when you use top quality moulds for the job. On the other hand, it is a smart move to order the best gravity die casting parts from a trusted company like ours.
We sell excellently designed aluminum gravity die casting parts made with the best die casting machines under high pressure die casting conditions. The parts we sell have been elaborately tested to confirm their quality. We ensure all production methods follow the best industry standards to provide aluminium gravity die casting parts that can be sold and used in all parts of the world.
The die casting process is quite straightforward. However, it involves the attention of a qualified production engineer to oversee every part of the process. This is how we avoid using excess material and achieve high-volume production. Our production methods and heat treatment are also reasons why we sell parts with complex shapes and excellent surface finish. Everything, from the mechanical properties to refractory coating and machining, aims to produce aluminum gravity die casting parts you will like.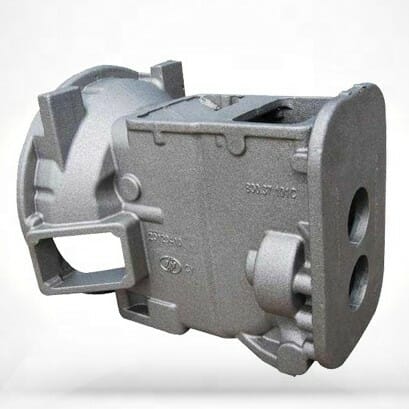 Industries that Need These Aluminum Gravity Die Casting Parts
There is a consistent demand for the best gravity die casting parts on the market. These products are more desired compared to parts made by sand casting.
Some of the industries where these parts are used include- the automotive industries and others making light fittings, medical equipment, compressors, pumps, diesel engines, military contractors, and much more.
How Aluminium Gravity Die Casting Happens
It is always best to form the die casting parts in a controlled environment monitored by experts in the field.
First, the molten metal is poured into the mould. The pouring process is carefully done to allow the force of gravity pulls the molten metal into every crevice in the mold cavity. If necessary, the production manager can tilt to mould to ensure molten metal enters every crevice as it should.
After cooling, the production team ejects the parts, which can be labeled and packaged for shipping.
Why Demand for Aluminium Gravity Die Casting Parts is High
Gravity die casting process with molten metal is taking over a huge part of the market because of many reasons. It is financially more strategic to choose these products over the parts made from the sand casting process. This is because the products provide more value for money compared to sand-casting parts.
Here are some of the top reasons to choose the aluminium gravity die casting parts:
Impressive Grain Sizes
The aluminium gravity die casting process is best for project managers aiming to produce parts with finer grain sizes. This is because the moulds are completely coated during pouring, and the ejection process is easier.
No Gas Porosity
The end products can be used in different industries because there is no worry about gases ruining the parts. They have a better surface finish and texture that prevents gas porosity.
Higher Quality Products
The parts are significantly better than other options in the market. The surface texture allows you to have them sprayed after the castings removal from the mold cavity.
Product Category - Aluminium Gravity Die Casting Parts
The range of products from the aluminum gravity die casting method is vast and impressive. Many parts needed in different commercial sectors can be formed from the molten metal and gravity die castings. It is a permanent mold casting method for superior quality.
We sell aluminium gravity die casting parts for led lighting, auto parts, and industrial components. Here are the products: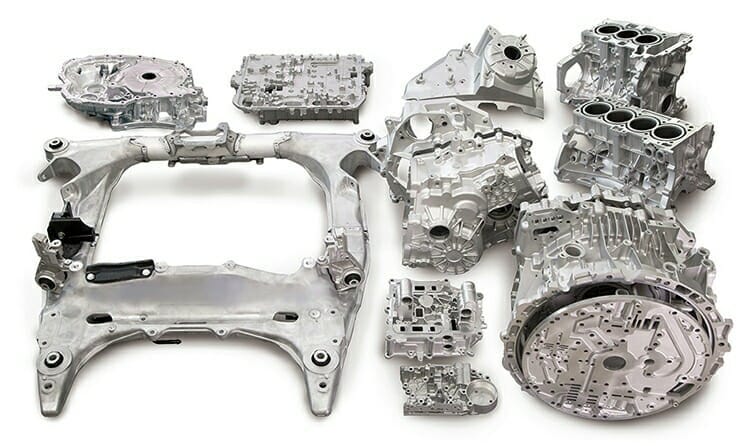 20W LED Housing Parts
These parts stand out compared to sand casting products because they are made from ADC12 grade aluminium alloy. They can be used for telecommunications and electrical housing light fittings. Also, the standard products go through critical size inspection before shipping.
These LED housing parts are lightweight, and lead time is about three to four weeks.
ABS Plastic Housing
The materials used to make these ABS housing parts fall into the ADC1/A380 grade. They come in black or white colors, with customizable options. The machine type for production is the cold chamber die casting machine. And the products are TUV certified.
They can be used in telecommunications and for electrical housing or lighting projects. The molten metal used for permanent mold casting is top-grade, making these parts an excellent choice.
Aluminium Die Casting Auto Engine Block Resin
The gravity casting process for this part involves permanent mould casting. The natural aluminium color and painted surface finishing give it a unique look. It is an A383-grade automotive part made by excellent CNC machining.
The skilled engineers guarantee a short lead time and fast delivery.
Customized Aluminium Camper
The size of this camper can be customized to meet the buyer's needs. This helps control wasting excess material. The permanent mold for aluminum casting makes it possible to get the rounded or sharp edges. Its surface is finished with black powder coating, and the production team uses the cold die casting machine to form these parts. The lead time is about 40 days, and they do a standard inspection before packing.
Die Casting Aluminum Alloy Heatsink
This auto part has a natural aluminum color with powder coating on the surface. The material grade is A383, and it falls under the AKH brade. The molds for these parts produce the parts with an ideal weight, and it is easy to control the temperature. Lead time for production is about 40 days.
LED Flood Light Housing
This product is ideal for housing flood lights because they can withstand a temperature of 5000k. The outer diameter is 75 mm, and the rated voltage is 220v. The metal-embedded design is best for installation, and it has a shelf life of 6 years.
The body is made from aluminium alloy, and it can accommodate white led lights. They sprayed it black to complement the LED.
Outdoor LED Light Housing
This LED light housing has a high temperature tolerance, and we manufacture it according to the ISO 9000 grade. The casting process forms a unique M6 thread when the molten metal is poured into the die. It has a silver color, and the material for manufacture is Adc12/A380.
No force is needed to manufacture this part or during removal because the gravity helps control the shell molding process when liquid metal is poured.
Order Aluminium Gravity Die Casting Parts in Bulk
These products made through permanent mold casting are fantastic and ideal for different industries. The lead time is short and convenient. Also, all parts are inspected before shipping.
Send us your permanent mould casting specifications or order details by submitting a customer contact form today.